Atoo Electronics Topline distributor
Dummy Components
In this video, we explain where and how to browse the Topline catalog to look for the dummy components suitable for your technical needs and explain what the Daisy Chain option is. Indeed, it is possible to choose your dummy components with or without the Daisy Chain solution.
DAISY CHAIN SOLUTION
TopLine provides a wide range of dummy integrated circuits with an internal "Daisy Chain" system. This system allows to test the electrical continuity during aging tests. It allows engineers to gather valuable information through this simple tool, in order to know the causes of failures.
For what purpose to choose

WITH Daisy Chain ?

For what purpose to choose

WITHOUT Daisy Chain?

- Improvement of assembly processes.

- Qualification of consumables

(solder cream, alloy, flux, underfill).

- Validation of stencil designs, thermal profiles.

- Qualification of new component technologies.

For the evaluation of placement

machines after maintenance,

calibration or capability tests.
The study begins by mounting the Daisy Chain systems on a test board with a complementary Daisy Chain circuit system. This combination creates a short circuit with a resistance close to zero ohms measured at test points on the board. The test board is then subjected to potential aging tests such as drops, vibration, heat and humidity, thermal shock, salt spray, etc..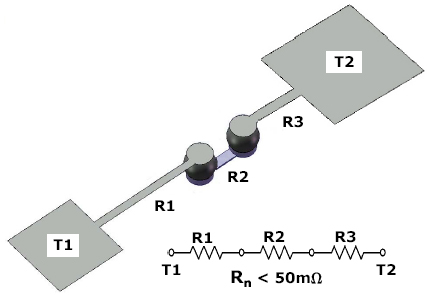 In a "Daisy Chain" circuit, pin 1 is connected to pin 2 in the device. Pin 3 is connected to pin 4. Pin 5 is connected to pin 6, and so on until the last pin "N". On the test card, the copper tracks allow to connect pin 2 to pin 3, pin 4 to pin 5, and so on until the last block.
FOR ANY ORDER OR ADDITIONAL INFORMATION, PLEASE CONTACT COMMERCIAL@ATOO-ELECTRONICS.COM